Photography in Vietnam : Part 3
Posted by Stephen Laughlin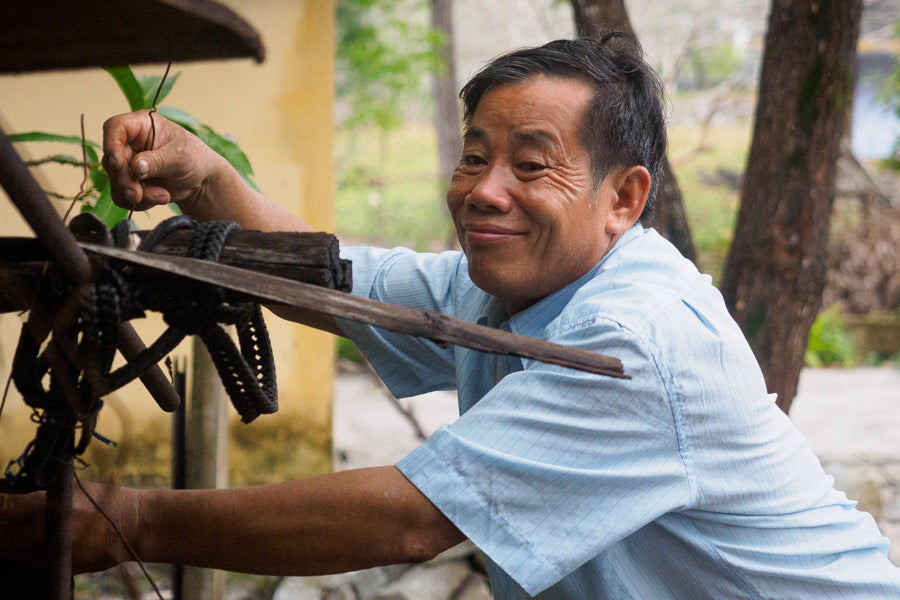 Day 6 - Waking Up in An Bang Village, Back to Saigon
Journal Entry: September 15, 2015: Woke up early, heard roosters and dogs, I could smell a fire going outside. Son was still sleeping, I think he was up late with his relatives, it was 5:00am and I was feeling much better, so I got up and went outside...
For the next 5 hours I would be on my own to try and communicate with Son's relatives while he was sleeping. No one spoke English, but we managed fine. I was offered coffee, tea, food, and sat with some older relatives that I had not seen the day before. Son's uncle told them who I was, then they would smile, greet, and sit with me to have coffee.
After breakfast I used the time to walk around and get some photos, there were new people showing up to help prepare the lunch time meal that the whole family would eat together. Every time a new person arrived on a motor bike they would stare at me, and start asking questions. I would hear Son's uncle tell them who I was and then the smile and greeting would happen again, this went on all morning.
Above: These panels are being used to build a roof over the fire to keep the rain off. The entire meal will be prepared by fire today since the power was still out from the storm. 
Above: Son's uncle tying the roof above the fire.
As I walked around the property I started to notice the small details. The concrete, tiles, colors, plants. The trees in large pots with the roots growing through small decorative houses and objects, placed in a way to become part of the plant. 
Above: The property of the house where I stayed. 
Above: Small details I noticed when walking around the property. 
Above: A child runs around the house with the dogs chasing her.
During the morning hours around 20 people showed up to help with the cooking and preparation for the meal. Much of the work was done outside, on the tile floor. This might be an odd sight to see for a western visitor, but I was in Vietnam, and things are going to be different over here. It was obvious there was more room to spread out on the floor than to use the small kitchen inside the house. The other reason they worked outside was because the power was still out and it was dark in the house.
Above: everyone working to prepare the family meal.
Above: As the raw chicken gets washed, she tossed some bits to the dog.
I didn't capture any images of us sitting down to eat. Son and I ate quickly and packed up because we had a cab showing up to take us to the airport in Hue for a flight back to Saigon. I could tell the family was disappointed that we were leaving so soon and they kept asking Son why we had to go. It wasn't a long drive to Hue, but my shoes were still soaked from the flooded roads and uncomfortable to wear. When we got to the airport I took them off and changed my socks and spent the rest of the time in the airport without my wet shoes on. I had to put them back on to walk outside to get on the plane, but took them off again on the plane, I desperately needed those rubber sandals on this day. 
Above: Our flight from Hue to Saigon.
Back in Saigon a cab dropped me off at my hotel. I was happy to be back in my room with a bed and bathroom, and my other belongings. I spent the next few hours doing my laundry in the shower and hanging it to dry. I always travel with quick dry clothes which will dry in just a few hours hanging in a hotel bathroom. I used the hairdryer on my shoes to dry them out. I also used this time to process photos and then rest before heading back out to catch a cab and go over to Son's place for dinner.
It started to rain again and I remember looking out the window of the taxi and thinking how wonderful this whole trip had been and right then seeing all these people riding motorbikes in the rain with their bright colored gear on. I had left my camera in my room because I was getting tired of always having it with me, so I pulled out my phone to capture the moment in the taxi.
Above: Back in Saigon looking out the window of my taxi (phone photo).
This was the last photo of this evening and it is still one of my favorite images from my trip. It is a lesson that it is not always about the gear that makes the photo, and it is also a lesson that I should always have my gear with me, even when I am run down and tired, you never know when the next photo opportunity will show up.