Photography in Vietnam : Part 1
Posted by Stephen Laughlin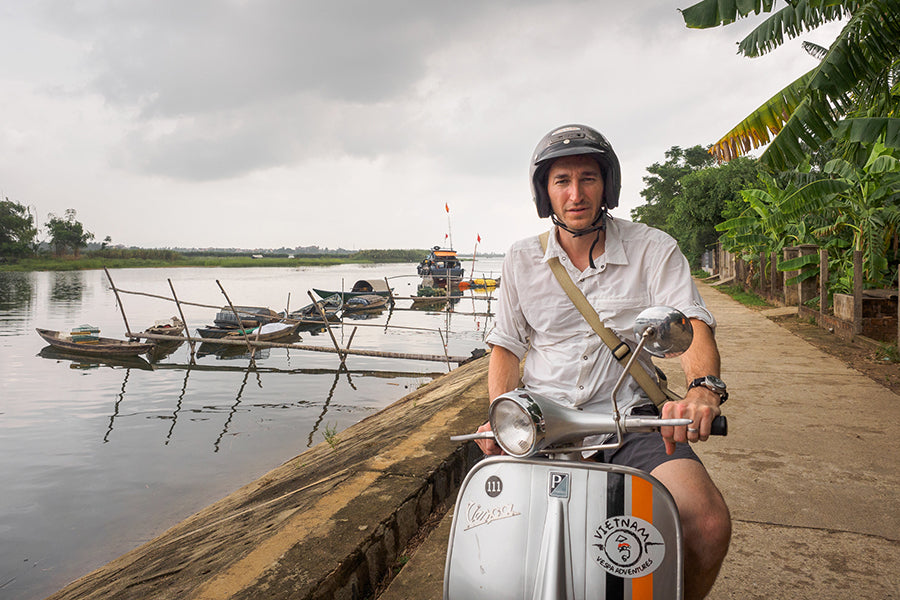 Foreword
This is a story of travel, photography, and adventure. I'm writing this at the end of 2020, a year that has been a bit depressing and stressful because the global pandemic and social unrest. Going through my journal and photos I was able to piece together the details of my trip to Vietnam that took place in September of 2015. Writing this story today takes me back to a different time and way of life. 

With the subject of Vietnam, I understand there is still a lot of pain and emotions that are felt by some of you that might be reading this. I encourage you to read on and understand my reason for writing this post was to share my experiences and photography with you in a time when international travel has been completely shut down.

It might also be worth mentioning my camera gear for anyone interested in the photography. On this trip I was using my Olympus OMD EM5 MkII and I brought a prime (35mm equivalent) and a zoom (24-70mm equivalent). I really loved the simplicity and compact size of the Olympus gear, I had my gear with me at all times in a Domke waxed canvas bag. All photos are from the Olympus unless I mention that it is a phone photo in the caption.
The Backstory
My trip to Vietnam in September of 2015 is a long story, and probably why I have found it difficult to write a short story about it. For the last five years years I have been wanting to write down my memories before they fade away. A lot of details are left out in the interest of keeping this somewhat short, but if you ever meet me and want to sit down for a few hours of storytelling, I'd be happy to go into the details.
Above: Far from home and pondering how I got here, on a Vespa bike in Hoi An.
As a kid growing up in the 1980's the name "Vietnam" always meant the war. My dad was in the Army in the late 60s and was stationed in Colorado Springs. When I got back from my trip he told me that he couldn't believe that I chose to go to a place that he was scared of being sent nearly every day he was in the service. Many of my friend's dads were sent to Vietnam and I have heard some of their stories, seen a few photo albums and even watched personal videos that were filmed by these men. I took my childhood ideas of Vietnam with me on my trip and there are still plenty of reminders there today of the past.
Above: A visual reminder of the past hits me just a few hours after landing. This memorial was set up outside the restaurant we went to. Everything in the restaurant appeared to be from the 60s.
I have always been drawn to Vietnam, as a kid it was the war, the movies, the jungle. I have seen most of the movies and read many books. When I got older it became more about the travel, the idea of backpacking and exploring in far away land where everything is foreign and confusing. When I actually got there, my ideas changed into the reality that Vietnam is today: friendly people, hospitality, modern cities, good food, crazy traffic, beautiful landscapes, and serious rainstorms.  
Above: Having good food with good people. My first night in Saigon with Son Van. It had been over a year since we last saw each other in Kansas City and decided to plan this trip.
There is a connection to this story and my watch business, and that is part of the backstory of how I went to Vietnam. In 2015 I was still designing and selling Benarus watches with Ralf Schreiner. Ralf lives in Thailand and I was first able to meet him face to face in Hong Kong in 2011. Since then we have tried to meet up in Hong Kong when possible and time our trips around the Hong Kong Watch Fair, a global event for those in the watch manufacturing industry to attend. The fair typically takes place in early September and I have been able to attend in 2011, 2012, 2013, 2015, and 2019. For the 2015 trip, the plan was to land in Hong Kong, meet up with Ralf and go to the fair for a few days, then leave for Vietnam where I would connect with Son Van at the Saigon airport.
I met Son in Kansas City in the summer of 2014. We have a mutual friend named Dan Nguyen who came to Kansas as a young refugee during the war. Dan and I met around 2010 and are friends to this day. It is normal for Dan to call me up and invite me over to his house when they are making a Vietnamese dinner because they know how much I enjoy that. One of these nights Dan invited me over along with a few other guests, one being Son Van who was visiting Kansas City from Vietnam. Son was also a refugee from the war, he left Vietnam at a young age with his parents on a boat and ended up in Hawaii where he spent much of his childhood. As an adult Son returned to Vietnam where he has been working and living with his family to this day.
Right away Son and I connected and talked about Hong Kong and Vietnam all night. Over bowls of pho made by Dan's wife and a box of Chang beers we made a plan that I would come to Vietnam the next time I was in Hong Kong. After that night we kept this idea going by chatting on Skype, planning out the details of how it would all work out. It would be over a year from that night at Dan's house until I landed in Saigon and met up with Son again. 
Day 1 - From Hong Kong to Saigon
Journal Entry: September 10th, 2015: In a taxi now heading to the Hong Kong airport. I just said goodbye to Ralf, he will leave tonight for Thailand. I will land tonight in Ho Chi Minh City around 5pm…It is now 1pm, I checked my suitcase and am eating Thai food at The Peak Lounge upstairs in the HK airport. I just messaged Jake (Dagaz watches) about getting together when I return to Hong Kong on the 18th…The flight to Vietnam was okay, a bit delayed so when I arrived I was rushed to get to the hotel and then to dinner with Son's family…After Dinner Son and I went to a place called the backpacker district and had beers at a cafe owned by Son's friend. We sat in lawn chairs on the side walk while countless scooters zoomed by late into the night. I rode back to my hotel on the back of a scooter, a great way to end my first day in Vietnam.
Above: Landing in Ho Chi Minh City (Saigon) at Tan Son Nhat International Airport, Originally a small French colonial airstrip, later it was used by the U.S. Air Force during the war.
My journal entry says a lot about my arrival but let me fill in some blanks, the plane out of Hong Kong was delayed and I was worried it was going to get cancelled. When I landed in Vietnam, everything was different from Hong Kong or any other place I have been. Son picked me up at the airport and took me to my hotel where I dropped off my suitcase and then we left for dinner. The traffic was crazy and amazing to watch out the car window. We were late to dinner and his family was already there to greet us. After dinner we went back to Son's place to drop off his wife and son before we headed out for the rest of the evening. Being on the other side of the world and on sensory overload, I wasn't going to bed anytime soon. We headed to the "backpacker district" where I was nearly run over a few times by scooters and had to learn quickly... don't run, don't stop, maintain your walking speed and the scooters will decide to go in front of you or behind you.
Above: Sitting in lawn chairs at a cafe/bar in the backpacker district. A relaxing experience after a rushed day of travel. Son and I met some of his friends here, and also strangers were coming up to greet me and ask questions in a friendly and polite way. 
Day 2 - Saigon River, Cu Chi, Snail Street, and a Roof Top Club
Journal Entry: September 11, 2015: Having iced coffee at the hotel's cafe which is on the busy street just outside the lobby… I left the hotel at 11am for Saigon River boat trip to Cu Chi tunnels. 1.5 hours up river on a small motor boat, took tour of Cu Chi village and tunnels, fired AK-47 at the range into a muddy hillside, took photos on the river, got back to hotel at 6pm…Went to eat snails, quail eggs, duck eggs on the sidewalk, outdoor restaurant. Later went to a roof top bar, they call "beer clubs".
The next morning I took the photo below out my hotel window. I brought two watches with me on this trip, a Benarus Moray 42mm, and the other a newly acquired Tudor Pelagos. I chose the Benarus because it is rugged, water resistant, and appropriate for a trip to Vietnam. I brought the Tudor because it was new and I wanted to spend some time with it. I also thought it was appropriate for a trip to Vietnam because during the war some soldiers wore Tudor Subs, and I thought I should bring my modern version to a modern Vietnam.
Above: Starting my first full day in Vietnam with the Benarus Moray 42mm on the wrist. Looking out my hotel window. Below: My Tudor Pelagos, a book about Tunnel Rats, and a copy of my travel visa. (recent photo)
For my first full day in Vietnam, Son arranged for me to take a boat trip up river to a jungle village called Cu Chi. This place was used by the North during the war to stage attacks on Saigon and the South. The U.S. Tunnel Rat soldiers engaged in underground combat around this area. Cu Chi has a network of tunnels that are still there today. Visitors will learn about life underground, what they ate, how they kept the tunnels hidden, and other details about guerrilla warfare, such as booby-traps and weapons. I wanted to get into the jungle on my trip, to places like Cu Chi, to spend some time in solitude reflecting about what happened here in the 1950s, 60s, and 70s. I spent much of this day on the river thinking about the war, the U.S. soldiers and the Vietnamese people.
Above: Sorry to be smiling in a place with such a painful past, but everyone was laughing at me because they didn't believe that I would fit. I proved them wrong and was bitten by ants down there.
There were a few other people who were on this tour with me, we were strangers until we got on the boat together. One couple was from Singapore, another couple from Australia, and an older man from the U.S., as I talked with him he revealed that he was here during the war, and he was enjoying his trip back all these years later. He also got along quite well with our tour guide, conversing about the past. She was our boat driver, tour guide, and the daughter of a North Vietnamese medic.
Above: Heading back down the Saigon River from Cu Chi to Ho Chi Minh City.
That night after the boat trip I met up with Son and we went out to dinner eating snails, eggs, and other strange but tasty things. This was the night I had a fertilized duck egg. It was okay with the seasoning and a beer to chase it down. I believe the area we were eating is called "Snail Street".
Above: Eating a fertilized duck egg, and many other dishes on Snail Street before heading to a roof top bar.
Later that night we went to a roof top bar, they call them "beer clubs" and we met up with a few of Son's friends. This is where I met Steve, he has lived in Vietnam for over 20 years, he runs a business called "Vietnam Vespa Adventures", more on this later when we travel north to Hoi An. This was a great time at the roof top bar as we carried on late talking and enjoying the moment. The next day Son and I would be catching a plane to Da Nang.
Above: Saigon at night, the view from the roof top bar.
Day 3 - Flight to Da Nang
Journal Entry: September 12th, 2015: Packed my backpack for Da Nang, I'm keeping my suitcase in my room here in Saigon as the price for the room is not much and we will only be gone a few days…Arrived in Da Nang, the traffic is a bit calmer than Saigon, I can cross the street safer here… We checked into our room at the Brilliant Hotel, by the river. I can see a dragon bridge from my room window. Son and I were picked up by his friend Triep and his cousin in a midsize Toyota 4x4, something similar to a 4Runner. Triep's cousin dropped us off on a street where we had lunch, a bowl of something, after lunch we walked around and bought fresh squeezed sugar cane drinks and had some durian and other fruit… For dinner we went to a big outdoor venue, my friends just kept ordering food and plates just kept coming out all night. Beer was brought out in cases and put into buckets of ice water next to the table, they would count the empty bottles on the table to add up your bill.
Above: Lunch in Da Nang with my new friend Triep.
On this day we woke up, packed for a side trip to Central Vietnam and headed to the airport to catch a flight from Saigon to Da Nang where we would spend two nights in a hotel before heading North to visit Son's relatives in An Bang village. When we landed in Da Nang, Son arranged for us to be picked up by his friend Triep and his cousin who was driving the car. Triep is from Oklahoma and was in Vietnam visiting his extended family. Triep's cousin was from Da Nang and drove us around that day. It was nice to spend the day with Triep because he was friendly, and from the midwest. Most of my time in Vietnam I didn't get to talk much as everyone is speaking Vietnamese and having to translate for me, so the times that I found someone to talk to were special moments.
Above: Eating durian in Da Nang with Triep. Even though I have a funny look on my face, I have enjoyed durian for years.
At night we all went to dinner, I don't have the name of the place, but it was big, with a lot of tables inside and outside. There were 100s of people eating there, music, and a busy atmosphere. Son and Triep ordered all the food and I just ate whatever was brought out. One of the dishes was a plate of meat that was laid out nicely on a steel platter. I went ahead and ate the meat before the waiter came back to light the burner and start cooking it. I didn't know it was raw, no one was explaining anything to me about the food. I asked Son to ask the waiter if the meat was raw, how raw? It was raw goat meat, I started to panic a bit about eating it. Realizing there wasn't much I could do about it, I decided to move on and enjoyed the rest of my dinner and evening.
Above: Triep and Son at dinner in Da Nang, the night I ate the raw goat meat. (phone pic)
Day 4 - Hoi An, Vespa Adventure
Journal Entry: September 13th, 2015: We took a cab to Hoi An to do the Vespa tour. This was a great experience and a good way to see Vietnam country. Storm started this night.
The next day we took a cab to the town of Hoi An and were dropped off at Vespa Adventures, one of the locations that Son's friend Steve owned and operated. These Vespa Adventure locations are also cafe's, serving coffee in the morning and beer at night. We had some coffee upon arrival then headed out on a guided tour of rural Hoi An. Our Vespa tour lasted all day and included lunch and dinner, we stopped at many locations to meet the locals and learn how they live. Spending the day out in the countryside I was able to capture some of my best photos of the trip, here are some of those images below...
Above: Another moment of solitude, riding in the Vietnamese countryside. 
Above: A man walks on a bamboo dock in rural Hoi An. 
Above: A woman is weaving a sleeping mat in her house. This was one of our stops on the Vespa tour where locals welcome us into their homes to show us their way of life. 
Above: I pass the camera to Son as she wants me to try and use the loom. 
Above: We cross a bamboo bridge that is tied together with bicycle tires. 
Above: Boys sitting on a bamboo dock as the rain starts on our way back. 
Spending the day with Vespa Adventures was an amazing experience and a great way to see Vietnam, if I ever get the chance to go back I will book more day trips with them. Being off the grid all day we didn't realize that there was a tropical storm heading right for us. The rain started while we were out on the bikes, and continued to get stronger as we journeyed back to the hotel in a taxi. If I remember correctly we went back to the hotel and had some drinks and food at the indoor lounge which was on the top floor. There wasn't anyone else up there and we sat in the corner surrounded by glass walls with a great view of the river, the dragon bridge, and the thunderstorm that would light up the sky. We called it an early night, and I went to bed not knowing that my most challenging day was ahead of me.
Continued on Part 2