Photography in Vietnam : Part 2
Posted by Stephen Laughlin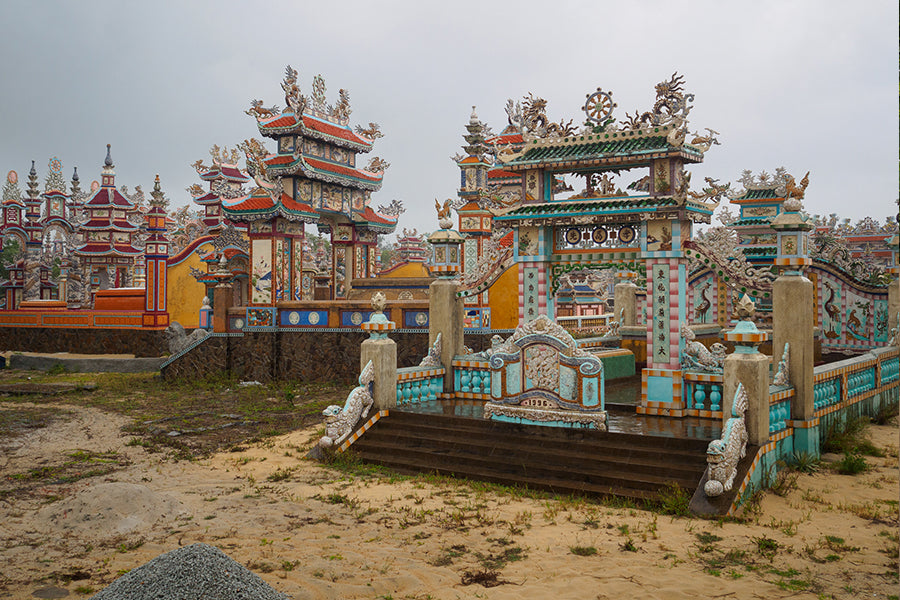 Day 5 - Sickness, Tropical Storm, 3 Hour Drive to An Bang
Journal Entry: September 14th, 2015: Woke up with stomach problems. Taxi driver stopped at public hospital for meds. Then we took a very small Kia taxi up into the mountains towards Hue to An Bang Village. Rain was heavy, some roads flooded, cows in the road. Stomach pains and headache most of the way. 3 hour ride in the cab. Once we arrived in the village we ate, put our stuff in the house, then took some scooters around the village to see Son's relatives, aunts and uncles. We ate at every house and was offered warm cans of beer, tea, and coffee. Then we took the scooters up to the cemetery to clean up the grave site of Son's grandpa. Heavy rain all day, riding on scooters my shoes got soaked, the tropical storm was strong and has knocked out all the power. Back at the house I still did not feel well, went to bed early.
I won't go into the details about waking up in the middle of the night with stomach problems, let's just say I was very sick and wondering what I should do next. As I laid awake and alone in my room I started to realize that it was only a matter of time for this to happen. I had not been careful with what I was eating and drinking. The ice in the coffee was not clean, and they put ice in a glass for the warm beer, or it was the food that can have bacteria I am not use to, the fertilized duck egg, or that raw goat meat I had a few nights ago... This trip was catching up to me and I spent most of the night going from my bed to the bathroom while the tropical storm was raging outside with rain hitting the window.
I have a saying that goes "If you don't experience some discomfort or challenges on a trip, then it is not an adventure, it is a vacation" and this was an adventure, so I had to find a way to push on.
Our plan for this day was to take a taxi from the hotel in Da Nang to An Bang village which took 3 hours, it normally takes 2 hours if you are not driving through a tropical storm. Son's extended family lives in An Bang and they were expecting us to arrive today for a family gathering. With the tropical storm dumping rain and my poor health conditions, I wanted to call off the journey to the jungle village where I didn't know what my sleeping or bathroom situation would be. Son told me that wasn't an option as today was a special family reunion, sort of a Memorial Day celebration and we needed to get there. 
Son and I came up with a plan that I was happy with, we would go to a public doctor and get some meds, then continue on to An Bang and I would be able to relax and rehydrate in the front seat of the taxi while we drove up into the mountains to our next destination. Below are some photos I took that morning with my phone as I wasn't in the mood to get into my camera bag, but I wanted to capture the kindness of our cab driver who genuinely wanted to help my situation. 
Above: My cab driver who showed so much care for me when I was sick. He spoke good English in a calm voice that was comforting to hear during this time. (phone pic)
Above: My taxi driver going into the pharmacy to talk to the doctor and get me some medicine. (phone pic)
Above: Driving through Tropical Storm Vamco, I would later learn that this storm caused flooding that killed 15 people and caused $14.1 million in damages. It knocked out the power in An Bang where we would be staying that night. (phone pic)
When our cab arrived to pick us up, Son explained to the driver my current health situation, and I could tell by the tone of his voice that he cared, and that he wanted to help. Son and him discussed at length in Vietnamese before the driver spoke to me in English and told me we would go to a doctor and get some meds. I was glad that he spoke English so I asked him what kind of meds he thought I needed. He said "Vietnamese medicine" which turned out to be some packs of probiotics and some rehydration packs to mix with water, and something like pepto bismol to ease my stomach. Our driver went into the pharmacy and told the doctor my symptoms and came back with the meds and bottles of water in various sizes. He then gave me the instructions on what to take with which size water bottle and how often. 
After I had my meds and reclined the front seat of the taxi I was relaxed and feeling good about the day. I was surprised to find out our little Kia taxi had WiFi and I was able to communicate with my wife for a bit while we headed north to An Bang in the rain.
Drinking those bottles of water I had to go to the bathroom, but I looked out the window and saw muddy roads, and structures made of bamboo and metal. I wondered where we could stop. I mentioned this to our driver and he said no problem we could stop soon. A few miles later we pulled over to one of these bamboo and metal buildings and our driver got out to talk to the locals. He told me they said we could use the bathroom if we bought coffee from them. I was happy to hear this as I love Vietnamese coffee. A lady pointed me to the bathroom which was in the back, but the tropical storm had knocked out the power, so it was dark in there. 
We continued on our road trip and I asked our driver if he liked driving 3 hours for us, and if he would turn around and drive back right away, which he said he would do. He was very calm and said he enjoyed the drive up here because the landscape was very beautiful and he didn't seem to mind driving in the storm either. 
An Bang Village
We arrived in An Bang at a house that was built by Son's grandpa back in the 1970s. It was a nice place, and detailed with stone floors inside and out, I also noticed the handmade wooden doors and window shutters. It was nicer than I expected because Son kept calling it a village, I had the idea of bamboo huts. 
Above: The house we stayed at for the night, we would sleep on the floor in one of the rooms. There was a mattress, blankets, and pillows in the room. It was quite comfortable after this long day. 
We walked around to visit Son's aunts, uncles, and cousins who live down the road. At every house we were greeted with a lot of excitement, they were happy to see Son and also asking a lot of questions about me. After the questions they would smile and greet me offering coffee, tea, or a warm beer, and something to eat. 
Above: Visiting with Son's relatives at a nearby house. 
Above: At the next house we were offered food and home made alcohol that was kept in an old vodka bottle, a wine glass was passed around and shared.
Above: Back at the main house we had fish that was recently caught by Son's uncle.
After we visited with the relatives we were told that we should go down to the cemetery because the other men had gone there to clean their Grandpa's grave site. This is a tradition on this memorial weekend celebration, before everyone in the family eats together, the grave site is cleaned, and their ancestors are respected with a few other rituals. 
With the tropical storm still dumping rain, we put on our rain gear and helmets to head out on motor bikes to the nearby cemetery. 
Above: Son and I gear up to take the motor bikes out in the rain. 
Above: Arriving in An Bang Cemetery, I was amazed and wasn't expecting this. 
An Bang cemetery is a unique place, I didn't know anything about it, so I was amazed and impressed when we got there. It is locally known as the "City of Ghosts" because the monuments are as big as houses, and the cemetery is the largest in Vietnam. When we arrived, Son's cousins were already working, pulling weeds, scrubbing the tiles clean, and adding new gravel to the top of the grave. I took a few photos of the situation, then I put my camera away and joined them in shoveling new gravel into baskets to be spread. 
Above: Son's cousins pull weeds at their grandpa's grave site. 
Above: Son spreads new gravel to the top of the grave. 
Since this place was like something out of a dream, I had to ask Son a lot of questions, and I learned that this is the only cemetery in Vietnam that looks like this. The locals here in An Bang began receiving money from their relatives who left Vietnam and moved to placed like the United States a long time ago, and around the 1990s the money that was coming in began to go towards building these massive monuments. The cemetery became sort of a competition with the locals to see who could build the nicest grave site. It also shows how much they value their late ancestors. 
Above: I have never been in a place like An Bang Cemetery, and it is difficult to describe in words. 
After we finished the clean up at the cemetery, Son and I headed out to explore An Bang in the rain. We headed towards the beach and at times the scooter went through 12 to 18 inches of water on the flooded roads. My shoes became soaked at this time and I realized I had the wrong shoes for Vietnam. What I needed was the rubber sandals that everyone else was wearing, but I wasn't going to find any for sale in An Bang, and if I did they wouldn't be in a size 12.
Above: An Bang Beach with the wind and rain from Tropical Storm Vamco. 
This was a long day and I was only feeling slightly better in the afternoon, so we rode back to the house and I went to bed early. I asked Son to explain to his relatives that I wasn't feeling well and I was sorry that I was going to bed. I was really disappointed about this, because I imagine staying up late with Son's cousins in a town like An Bang would have been a great time. I went to the room where there was a mattress on the floor by an open window and fell asleep listening to his relatives conversing while dogs were barking in the distance.